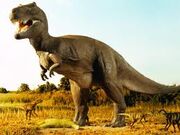 Object Information

Name

T-Rex

Type

Creature

Uses

Fighting, awesome mount

Danger

Hostile

Synonyms

Trex, Tyrannosaurus Rex, T Rex, Albertosaurus, Tyrannosaurus
The T-Rex is probably the most well-known and widely used dinosaur.
The T-Rex is also epically strong. It can kill a ninja in one hit. It is hostile so you must use a taming method to be able to ride it. But once you do... man, you'll feel like a badass.
Even being the epic beast it is, the T-Rex is still dominated by stronger creatures, such as the Dragon and Vampire. Yes, Vampire...
Trivia
When you write in Post Two One Seven a picture depicting Edison Yan's interpretation of Post 217 appears. The picture, corresponding to Edison's art, has a T-Rex; contrary to popular belief, Feep did not in fact ride a T-Rex.
Along with a variety of other hostile creatures, T-Rex can cause a glitch when you tame it, ride it, and then use a teleporter or time machine. The screen goes black and never returns. (emulator doesn't)
The T-Rex is capable of devouring the otherwise-invincible Longcat in a single greedy gulp.
Edy is a stronger version of the t-rex with some red accessories.
It can take two fireballs, which are nearly lethal.
There are three objects based off of this, they are robosaur, edy, and fossil (full)