Object Information

Name

Shelter

Type

Uses

Protection

Danger

Harmless

Synonyms

A-Bomb Shelter, Bomb Shelter, Fallout Shelter, Air Raid Shelter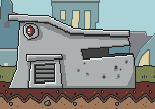 A shelter is one of the few buildings Maxwell can interact with (other than summoning an occupant). Tapping the shelter causes Maxwell to take refuge inside. Tapping it again causes him to emerge.
It does not, in fact, protect you from nukes.

It does not protect you from nukes jerk.
Also... IT DOESN'T PROTECT YOU FROM BOMBS!!!!!!!!!!!!!!!!!
Community content is available under
CC-BY-SA
unless otherwise noted.