Object Information

Name

Mine

Type

Explosive

Uses

1-hit kills, traps

Danger

Can be set off by anything (including Maxwell)

Synonyms

Landmine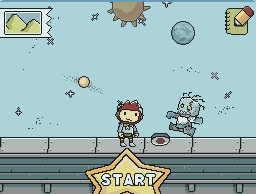 The mine is perhaps one of the most useful objects in the game. It can be set in place for an enemy to step on, it can be glue to food and placed as a trap, it can destroy the environment, and it can even be dropped on top of any unsuspecting creature that has wronged Maxwell. It is also useful because, as a prop, it can be placed independent of Maxwell. Need to take out an enemy that's waiting at the end of the stage? BAM, MINE'D! It's incredibly cheap but also incredibly epic.
The only downside is that almost every moving object, person, and creature in the game can set it off, including Maxwell. Be careful not to use it around important allies. Also, it's not a good idea to rely on the mine as you will have to continuously spawn mines to kill every enemy. But when used sparingly, you can be an unstoppable force.
If an enemy won't walk over a mine create a second mine and drop it on the first mine. They explode with double the firepower.