Object Information

Name

Mech

Type

Uses

Killing things

Danger

Electric

Synonyms

Mechanoid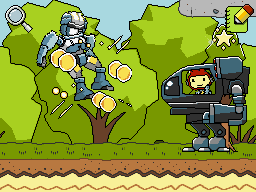 Not to be confused with a Mecha, which is an awesome Japanese fighting robot, a Mech is an awesome western fighting robot... that you can pilot!

The mech bears heavy resemblance to a "madcat" mech from Battletech
---
Mechs can also get angry
Part 1: Get out the mech. Get out an Enemy (optional), and put him pretty far away. Hop in the mech and insert Spiked Steel Ball or Steel Spike, then drop it on top of the mech. You will fall out. Part 2: Place the Spiked Steel Ball/Steel Spike behind the Enemy. Then hop back into the mech. it will pursue the Spiked Steel Ball/Steel Spike; if the enemy is there some shots will hit him. Although it does not have a brain, it sure gets angry.
Reference:
This mech looks like the avatar vehicle where you can control it.
Community content is available under
CC-BY-SA
unless otherwise noted.