Object Information

Name

Jet Pack

Type

Flight

Uses

Used to reach higher places fast

Danger

None

Synonyms

Rocketpack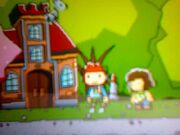 Jetpack is a object that allows you to fly by means of a jet-propulsion powered backpack. Like wings they are wearable so you are able to hold something while you've got your arms through the straps.
Jetpack is one of the best flying items. However, it does have some disadvantages. For example, stay away from water while wearing one, as it'll quickly short out. And each time you use a jetpack, it will soon overheat and you'll have to land before you can make another jet-powered jump. The height it can reach is also limited, although there are few situations where this should matter.
Still, wearing a jetpack while shooting a raygun at a T-Rex is far too cool not to do it.