Object Information

Name

Elevator

Type

Uses

Ascending one story; Keeping Maxwell occupied

Danger

If you forget to tap it again you'll be riding forever

Synonyms

Lift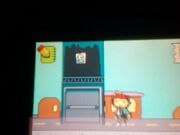 Need to get vertical?
While some are content with Wings or a Jetpack, you might prefer the more utilitarian route of the elevator.
Spawning one drops down a handy two-floor elevator shaft, with the elevator on the bottom. Tap to get in, and ride. Tap it again to get out. More height than a ladder or escalator, that's for sure!
This can also be handy for keeping Maxwell occupied while you get things set up. Put him in the elevator and plan, assemble, move the camera, whatever you like; he won't move again until you re-tap the elevator. (This use is also known as Hawkian's Elevator =P) But somtimes it's very useless.
Community content is available under
CC-BY-SA
unless otherwise noted.